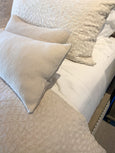 Thick Neutral Handwoven Pillow
$75.99 USD
Details:
Inserts are included with this pillow cover.

If 14x36 is listed that means the cover is fitted with a 14x36 insert. Covers measure 2 inches less than the actual insert.

Colors include: light cream. Beautiful neutral tones on this handwoven textile.

Back of cover features a heavy weight linen back.

Fabric variations will vary.

All inside seams are serged to prevent fraying and for durability.

Zipper closure.

100% thick handwoven cotton.

Washing instructions: Spot clean or dry clean.