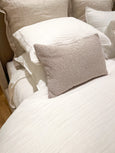 Oatmeal Bouclé Oversized Lumbar Pillows
$92.00 USD
Details: 
IMPORTANT: Covers are made to fit the inserts. Eg. The 14x36 will fit a 14x36 insert and measure 12x34 right side out. 
Colors include:  Oatmeal 
Back of cover features the same as the front. 
Style: Boucle pillows. 
Washing instructions: 

the fabric has a anti-stain treatment which makes it easy to spot clean. Dry clean only if needed.

Zipper closure. 

Inserts are not included unless selected at checkout. 

Processing time 8-10 days
Made in Austin, Texas.