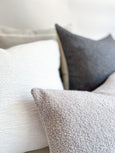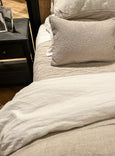 Studio Pillows | Pillow Combination #20 | Sofa Combo
$361.00 USD
Combination includes: 
(1) 24x24 Gray and White Stripe Cover. Double Sided (High performance fabric) 
(1) 22x22 White Bouclé Pillow Cover. Double sided.  
(1) 22x22 Deep Navy Cover. Heavy neutral backing. 
(1) 14x20 Oatmeal Bouclé Cover. Double sided. 
Zipper closure. 

Inserts are not included unless selected at checkout. 

All pillows are made in Austin, Texas. 
IMPORTANT: All covers are made to fit the inserts. Eg. The 24x24 will fit a 24x24 insert and measure 22x22 right side out. This ensures the cover does not fit baggy and loose.