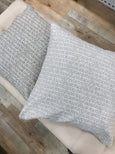 Simple style with gray decorative pillows - HALEP
$34.99 USD
These unique, gray decorative pillows are stunning and help bring simple style to your bedroom or living room. Simply mix and match these gray decorative pillows with other pillows. This gray decorative pillow is a stylish favorite. 

Details: 
IMPORTANT: Please see below how measurements are made, to ensure you order the correct size.
Colors include: Gray and off white. 
Brass zipper closure. 
100% cotton. 

Machine wash gentle cycle. 

Inserts are not included. 

Processing time 8-10 days
Made in the U.S.A.

MEASUREMENTS: All pillow covers measure 1 INCH less INSIDE OUT and 2 inches less RIGHT SIDE OUT. This helps give a more fitted professional look. Eg. If you have 20x20 inserts, you will want to order 20x20 covers.