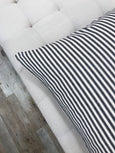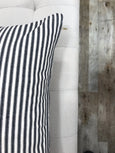 Classic black ticking stripe pillow - ELLA
$28.99 USD
Ticking stripe pillows are a classic for any living space. Stripes never go out of style. These ticking stripe pillows will add subtle beauty throughout your home. The black is a very rich black and these covers are stunning. 

Details: 
IMPORTANT: Please see below how measurements are made, to ensure you order the correct size.
Colors include: Black and cream. 
Style: ticking stripe pillow 
Coordinate with:
Vintage French Linen
Brass zipper closure. 
100% cotton. 

Dry clean. 

Inserts are not included. 

Processing time 8-10 days
Made in the U.S.A.

MEASUREMENTS: 
All pillow covers measure 1 INCH less INSIDE OUT and 2 inches less RIGHT SIDE OUT. This helps give a more fitted professional look. Eg. If you have 20x20 inserts, you will want to order 20x20 covers.